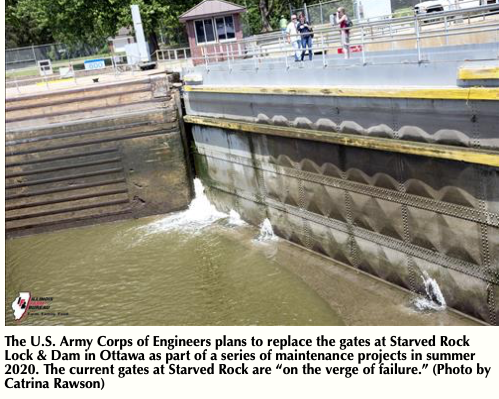 Bad News on the Great Loop: Army Corps of Engineers Will Close Six Locks on Illinois River in 2020
By Peter Janssen · On November 18, 2018
Here's some bad news for anyone thinking of tackling the Great Loop in 2020: The U.S. Army Corps of Engineers is closing six locks and dams on the Illinois River, that part of the Loop connecting Lake Michigan to the Mississippi River, from July 1 to October 31, for major infrastructure repairs.
The options for Loopers are to stay in the Great Lakes and leave Chicago on November 1, although as someone who has lived in Chicago, I can safely say you might get a bit cold then. You also need to determine how many marinas and other facilities would be open at that later-than-normal date.
Another option is to head down the Illinois River before the closings on July 1. This totally depends, of course, on where and when you can start the Loop that spring, and the speed of your boat. You also could haul the boat near Chicago and ship it to the Mississippi, although that could be expensive, again depending on the size of your boat.
The Army Corps hopes to make all the closures and complete work on the locks and dams in a relatively short time frame to make the impact on recreational and commercial shipping as small as possible. There is little doubt, however, about the need for repairs. Indeed, the Corps said that the current gates at Starved Rock lock and dam in Ottawa, Illinois, are "on the verge of failure."
Here's the complete list of closures and work needed from the Army Corps:
https://www.mvr.usace.army.mil/Missions/Navigation/Navigation-Status
Published in CRUISING ODYSSEY 107, 11/23/18